Home     Comapny    CEO Message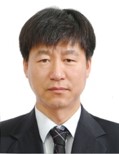 Thank you for visit our company website.
We remember absolutely your concerns about our developed products & Constant efforts.
We will never try to make our way, But only possible by customer's a thinking.
Always pay respect to our user's an opinion and a belief.
Every day we are taking a novel ideas and have passionate desire for creation.
I think that valuable consideration only can make satisfactory future.
If for World first, We will work on and on year round with pleasure.
Be healthy always and May God's blessings be with you.
from your eternal partner hocheon kim